From Koh Phangan to Koh Lanta – An endless Journey
Many roads lead to Rome. Just as many lead to Koh Lanta in Thailand.
We reached Koh Phangan with ease. We came from Dusseldorf via Bangkok and Koh Samui to Koh Tao to spend 6 days in Stefan's diving center before we took the Seatran Ferry to Koh Phangan where we spent 2 days relaxing at the deserted Thong Nai Pan Noi beach. Afterwards we wanted to head off to Koh Lanta – and that was not as easy as we thought.
To get from Thailand's east to Koh Lanta you always have to go via Krabi. The city is located in the south of Thailand at the west coast across from Phuket. Besides several bus terminals and wharves Krabi also has a small airport which you can reach really cheap with Bangkok Airways and AirAsia. But to get from Koh Phangan to Krabi by plane we would've had to take a ferry to Koh Samui first. As we already had 6 flights within our 3 weeks vacation and we wanted to save money and time for check-in etc., we decided to travel to Krabi overland.
Night ferry to Surat Thani
We read online that there is a night ferry going from Koh Phangan to Surat Thani. In Surat Thani we could take a bus to the pier in Krabi from where we could take another ferry to Koh Lanta. So far so good. Sounds like a plan.
Unfortunately neither the strange owner at Thongtapan Resort nor the various tourist offices at Thong Nai Pan Noi beach knew much about that night ferry. The only thing they knew was the pier where the ferry departs. They didn't even know at what time the ferry leaves. The internet said the ferry leaves at 10:00pm – some people said it leaves at 9:30pm. We couldn't even think of buying a ticket that covered the whole way to Koh Lanta. "Nooooo night ferry! I cannot book!" The tickets are only sold directly at the pier.
At least we found out on the internet that the ferry departs every night. So we took a taxi to the pier on time to search for the ticket counter. We ordered the taxi at Handsome Sandwiches by the way. They have the best burgers in Koh Phangan and I definitely had one of the best burgers ever at that place. They don't only have Handsome Burgers and Handsome Sandwiches but also Delicious Bloody Cold Beer, Handsome Gasoline, Handsome Laundry and Handsome Taxi with Mr. Handsome. In fact we had a Mrs. Handsome, but she did her job very well. You can't find a cheaper taxi in Thong Nai Pan Noi if you don't want to go at fixed times.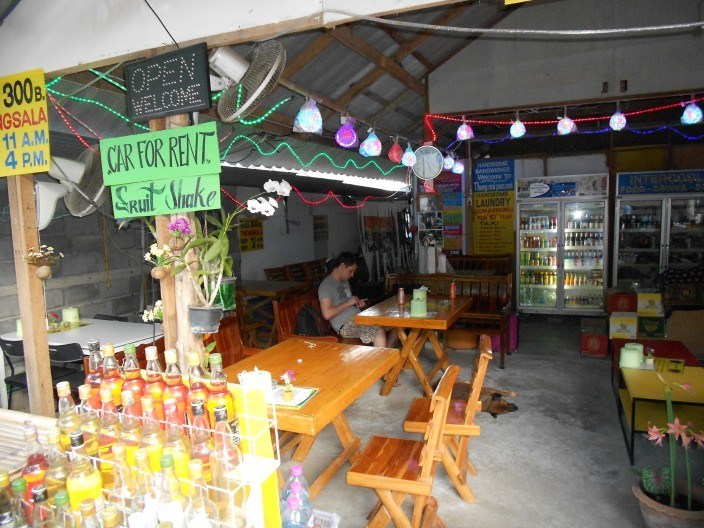 Once arrived at the pier it wasn't really difficult to find the ticket counter. The counter in fact is an old folding table standing right next to the ferry. We bought our tickets to Surat Thani for 400 Baht (ca. 9 €) per person and then still had enough time to drink a beer before we had to board the ferry. 400 Baht is a really good price as it contains transportation as well as accommodation.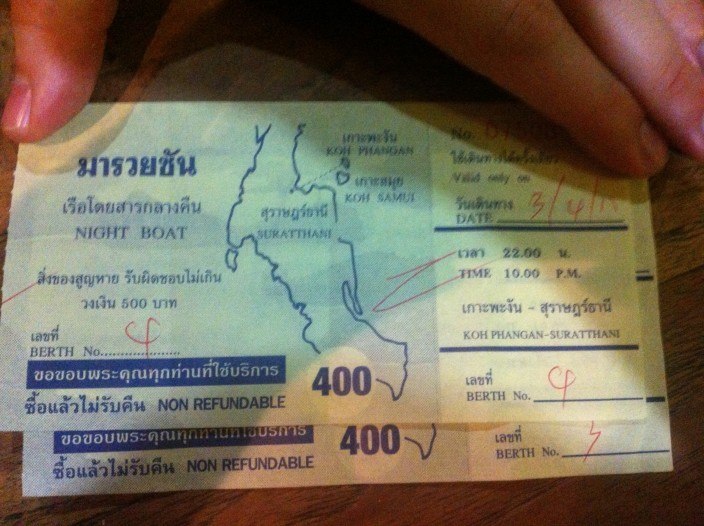 We boarded the ferry at 9:30pm and it departed at 10.00pm sharp. I didn't really have an idea of what to expect at the ferry. After boarding the ship we searched for our seats that were noted down on our tickets. Fortunately we had two seats up front and therefore had the chance to keep our luggage with us. In addition we had a good overview of the whole side of the ferry: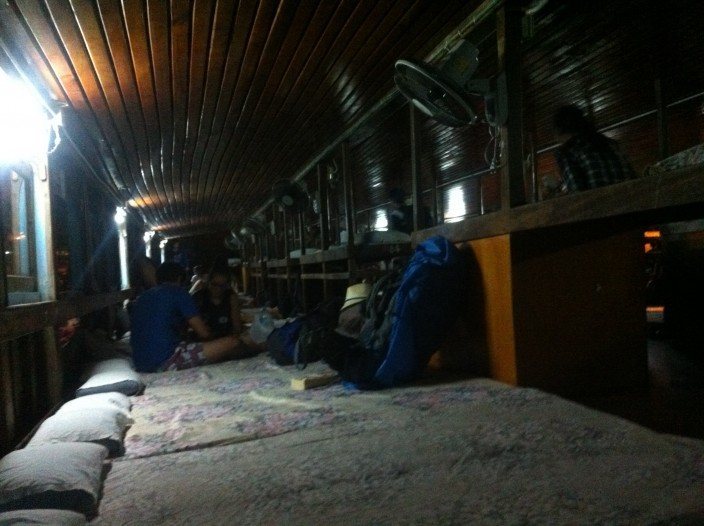 Surprisingly the night ferry is used by much more locals than tourists. And the Thais carry all sorts of things to the mainland. We had a little bird in a cage on board – when I had to go to the toilet once, the cage was open though and the bird was gone…
Arriving in Surat Thani
We only needed 5.5 instead of the planned 7 hours to reach Surat Thani. Thus we arrived at that deserted place in the middle of the night at 3:30am. Of course we were received by some "travel agents" with SUVs right away. They asked where we wanted to go and 2 seconds later we found ourselves at the loading platform of a SUV driving to the travel office with some other Germans. Fortunately the other people wanted to go to Krabi as well – thus we weren't basically wrong. However, it's a strange feeling to drive through an unknown city at a SUV's loading platform in the middle of the night. But as we had no tickets to journey on and no idea where to go, we had no other chance.
Once we reached the travel office every tourist was allowed to step in one by one to buy the needed tickets. The lady seemed to be nice and explained to us that we had 2 options to come to Koh Lanta. We could either take the bus to Krabi at 6:00am and then take a slow ferry at 11:00am arriving in Koh Lanta at 2:00pm. Or we could choose the faster option taking a speed boat in Krabi at 10:00am arriving in Koh Lanta at 11:00am. The second option would only cost an additional fee of 200 Baht (ca. 4,50 €) per person. As I hadn't slept all night I agreed to pay the higher price if we would arrive in Koh Lanta 3 hours earlier then. We got a piece of paper with the number of persons and our destination written on it and then had to wait for another 1.5 hours on cheap chairs surrounded by countless mosquitoes in front of the travel office. Finally another SUV came to take us to the bus terminal.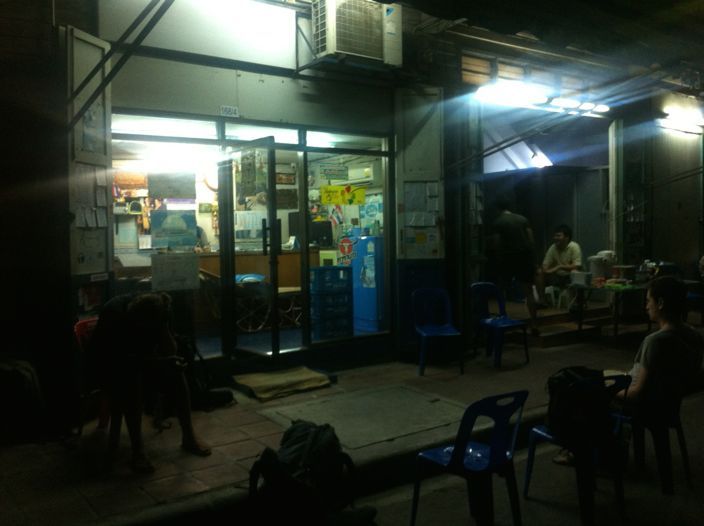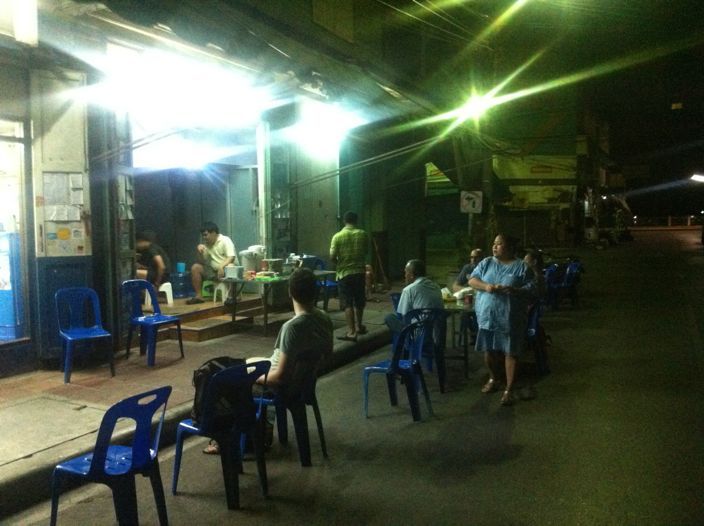 The SUV suddenly stopped on a major street in the middle of nowhere. It didn't seem like there was a bus terminal somewhere around but we had to get off the SUV. At least there was a bench and a sign that hypothesized that there are indeed busses leaving. But we couldn't see a single body far and wide. The driver of the SUV unswervingly tried to call someone. After about 30 minutes a rolling gate opened behind us and there actually were some benches belonging to a bus terminal. Lucky us!
To Krabi by bus
Suddenly the assumed bus driver arrived and shouted at the SUV driver. We didn't understand a single word of what they argued about, but then the bus driver asked us in English what time they told us the bus would be leaving. We said 6:00am but that wasn't right. The bus driver explained to us that the bus doesn't leave before 7:00am but then it would drive nonstop to Krabi. We had 2 options – again: Either stay with him and take the bus at 7:00am or drive back to the travel office and take another bus that would leave at 6:00am but needs 4 instead of 2 hours because of a couple of breaks. The SUV driver made that decision for us by getting in the car and just driving away without saying a word. There we stood and still had to wait more than an hour before the bus would leave. And not even using the toilet was free of charge. Nice way to start my day!
It was almost 7:00am when suddenly a big coach arrived. A lot of people got out and then the bus left again. All the people who got out of the bus got a small sticker with their destination written on it. We were the only ones who got nothing but angry looks from the bus driver. At 7:00am more busses arrived, people got in and the busses left again. I already worried that we would've to sit there forever as suddenly our minibus arrived. Too bad the bus was packed once we got in and every passenger had a huge piece of luggage that was also stored inside the bus as it had no luggage rack. Accordingly there was very little space for all of us.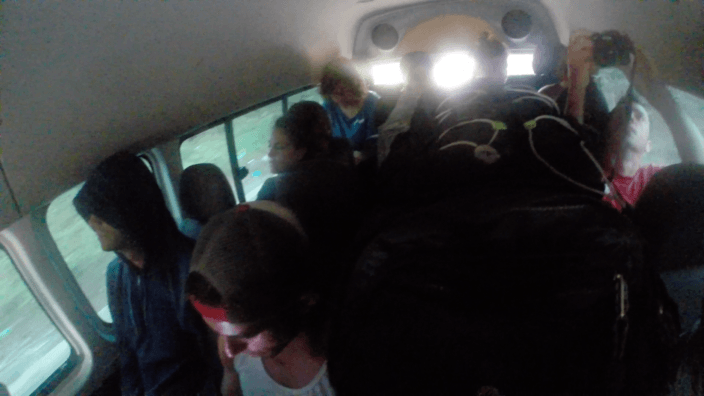 Patrick's space was so tiny that the whole lower part of his body fell asleep for 2.5 hours during our ride. Well, that seems to be the price you have to pay for such a cheap ride. I still was in a good mood thinking of boarding the speed boat to Koh Lanta in a couple hours.
However, we arrived in Krabi with a huge delay. As the lady in Surat Thani said, the boat should leave at 10:00am. At 9:45am we drove across Krabi without seeing any water far and wide. All other passengers got off the bus during transport and I was slowly getting a little pissed. After all we paid an additional charge to take the speed boat. And now we were missing it because the bus driver was half-assed?!
The bus finally stopped at a parking ground and the driver said we have to get off here. As we had no chance to catch the boat anymore it didn't matter where we got off the bus. We had to go to another ticket counter and told the lady that we in fact wanted to take the speed boat to Koh Lanta and didn't know why we were there at all. And then our feet got back on the ground. There was no speed boat. The lady in Surat Thani had just lied to us. There is only one existing connection from Krabi town to Koh Lanta: with a minibus and 2 car ferries. It also exists a foot ferry but I still have no idea where it leaves.
The onward bus ride
We had to change busses 2 more times before we finally got on the bus to Koh Lanta. And we finally exchanged our ticket for a sticker. By the way, the ticket looked like that: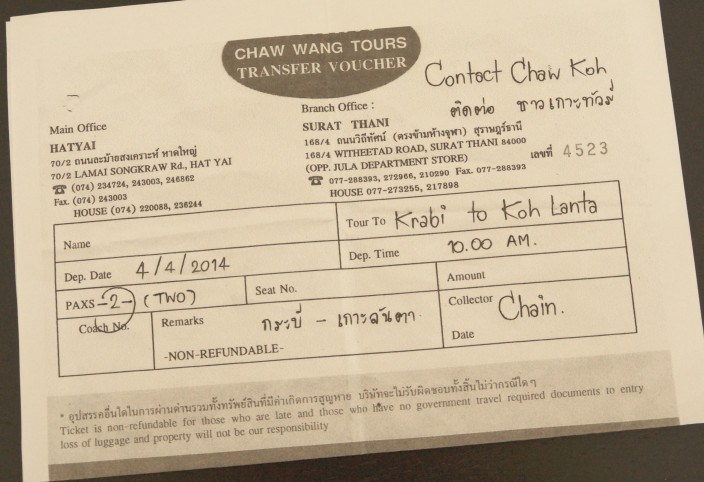 If you ever meet the people from Chaw Wang Tours, take the cheapest ticket they offer you. Everything else is fake anyway.
After 3 more hours in the minibus we finally reached our destination and luckily a driver from our hotel picked us up at the pier. For God's sake, I couldn't abide a longer stay in that bus. Thai people basically don't know any traffic rules and their dearest hobby is overtaking in blind bends with solid lines. But maybe in this case I'm just a bit too narrow-minded.
One thing is clear: next time I'll book a flight. In the end our tour wasn't much cheaper than a flight with Bangkok Airways.
Did you ever experience such a journey? Leave a comment!