From Cologne to Chicago – the Complicated Way
I can't walk slowly.
I either walk fast or not at all. Especially at airports.
I like walking fast. What I don't like is running – especially not at airports. But on my difficult way from Cologne to Chicago I had no choice. And as if that wasn't enough, I had to run through an airport that wasn't even on my route: Toronto. But let's start from the beginning.
After my first academic year I wanted to spend some relaxing time with my aunt in Chicago in summer 2006. I booked a flight from Cologne via Amsterdam to Chicago and everything seemed to work out well. Boarding started on time and it didn't take long until all passengers had taken their seats in the small prop airliner KLM always uses for the route CGN – AMS. It seemed as if the Fokker 50 would depart on schedule. When we reached the runway I already was happy that I would be having enough time for changing the gates in Amsterdam. Seemed to be a good day to travel after my little cousin was born that morning.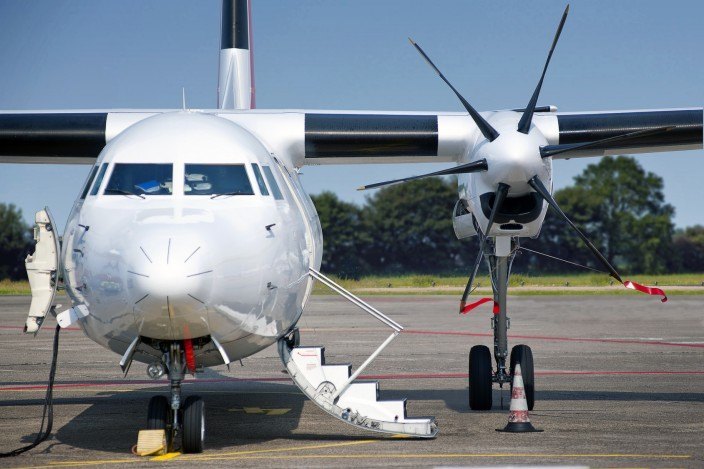 The pilot was ready to depart and sped up to the maximum. But suddenly the small aircraft got slower again and instead of taking off we drove back to the gate in the last minute. I never experienced something like that before! And I've been flying for many years. I didn't think about the reasons very much – I assumed the pilot knows what he's doing. There were no announcements why we stopped again. Back at the gate, the doors opened again and two engineers got in and disappeared in the cockpit. After about an hour – we weren't allowed to leave the aircraft – they came out of the cockpit againg and left the plane. The stewardess closed the doors and we drove to the runway again. Still no explanation about what just happened. For people who don't like flying as much as I do that probably would've been like hell. A Fokker 50 is not inspiring that much confidence in general if you have a fear of flying.
But the only thing I could think of was my connecting flight to Chicago. I could forget to catch that flight if we wouldn't depart soon. Departure of course was a long haul because we had to wait for a new unscheduled start time. Still in the air I knew, I either had to run or I'm gonna miss my flight connection.
That was the first time I got in touch with the subject of running. I was in a good mood and was ready to run as fast as I can. But I couldn't even get a chance to. As the Fokker 50 is too small for the walkway, I had to exchange the plane for a bus and then had to wait for all the passengers to join me. Why don't busses at airports pull out as soon as they're full? I probably will never understand that. When we finally reached the terminal I had a chance to have a look at the departure screen and realized: I missed my connecting flight. Boarding already started and I would've never been able to make it to the gate on time with all the security checks in between. Okay, so I didn't have to waste my energy.
I went to the service counter of KLM to find out about what to do next. There was no second direct flight to Chicago that day but they were able to reroute me via Toronto. I accepted that offer as I didn't want to spend the night at the airport in Amsterdam. Too bad the flight was almost fully booked and I got a seat in the middle of a row of three – how comfortable! But I don't wanna complain – at last KLM enabled that I could journey on and said my luggage will be in the aircraft with me.
The flight to Toronto was long but okay. The persons sitting next to me were nice and of course totally interested in my story of the day. If they only knew what happened afterwards… In Amsterdam they told me that I had to pick up and recheck in my luggage in Toronto because I got rebooked to an American Airlines flight to Chicago.
The flight was on time and I was in a good mood to pick up and recheck in my suitcase with AA within 2 hours. And then there I stood at the baggage belt and waited. And waited. And waited. One hour. I got to see every single damn suitcase from the plane. But not the one I needed: mine. That, in fact, had no chance to get on the aircraft in Amsterdam.
There I stood, fighting back my tears, and had to go to an officer to report the loss of my suitcase. I had to fill out a form and (in fact) wait in queue for customs. But as I had no time and already was in a bad mood I just passed the queue, got a few angry looks and handed the customs form to the customs officer. I had to hand the form for reporting my lost suitcase to a second officer and then I finally was allowed to go to the terminal to check in with AA.
But there was no American Airlines counter in sight. Hence I went to an assistant of the airport and asked him. "American? The counter is in Terminal B. We are in Terminal A. You have to take a bus to the other Terminal. It leaves every 15-20 minutes." Oh okay. Taking a bus again. I went to the bus station not expecting anything bad. But almost there, the bus suddenly pulled off. And I didn't have time to wait. I already waisted one hour at the baggage belt and check-in would close in a few minutes. And then I started running. In such situations, 10 years of training athletics prove their worth. I ran after that bus like a maniac and was able to knock on the window before the bus totally speeded up. I only got to know nice people that day – and so was the bus driver. He stopped the bus again and opened the door for me. I thanked him and sat down on a free seat totally beaten-up.
Nobody told me that the bus needs 10 minutes to the other terminal. But I had no other chance than waiting anyway and hoping that American Airlines is still open for check-in. In the terminal was not a single body. I found the counter immediately and fortunately there still was a single member of staff. He looked at me a little puzzled as the flight to Chicago already should depart in 20 minutes. I had to fight back my tears again and worried about spending the night in Toronto instead of Chicago. But the guy was really nice and asked through his walkie-talkie if I still was allowed to check in. Yes, I was. Thanks to the missing suitcase. That was the only benefit of not having my luggage with me. With carry-on it's much faster.
I got my boarding pass and a good-looking young man aside who got me through the airport and all the security checks so the aircraft didn't had to wait for me. After walking fast through half of the airport he suddenly asked me for my entry forms. Entry forms? What entry forms? Why here? We're still in Canada, I don't want to enter Canada. The guy explained to me that people coming to the US via Canada have to enter the US while still being in Canada. Nice US citizens are sitting in front of the departure gates and stamp your passport. That's actually useful as you don't have to wait when arriving in the US. But it's problematic if you don't have time anyway and didn't fill out any of those forms you need. I'm surprised that the officer even stamped my passport – I'm sure he wasn't able to read a single word of my scratchy writing.
After passing the entry, the goodlooking young man got me to the last security check. I was allowed to stand upfront the queue and from that point the guy wasn't able to help me any further. He said goodbye and chose the nicest words he could: "After the check you have to get to the gate fast. You better run." Thanks for the advice! As I hadn't already been running enough that day.
But well-behaved as I am I listened to that man. After the security check I didn't even put my belt back on but started running. Would've been nice if the gate was near. But in fact it wasn't – I had to run to the end of the terminal to reach my gate. There was nobody standing at the walkway and I was afraid I hadn't made it on time and boarding already was completed. But the ground staff said boarding hasn't even started. All passengers were still waiting at the gate. Oh, okay. "The aircraft is still in Chicago. They can't depart cause of a storm over the city." WHAT?? The plane didn't even depart Chicago? Why the hell did I run all the time? I was so exhausted that it was hard for me to breathe. What a bummer! So I sat there, again fighting back my tears and sweating like a pig, at that stupid gate and had to wait for the aircraft that should get me to my final destination.
Two hours later boarding finally started. At that time I was already on my way for more than 20 hours. After two more hours I finally arrived – totally exhausted – at my destination and allowed myself a beer in my aunt's kitchen. And at least the whole thing had one good facet: I had to go shopping the next day as I didn't have my suitcase with me. That arrived two days later.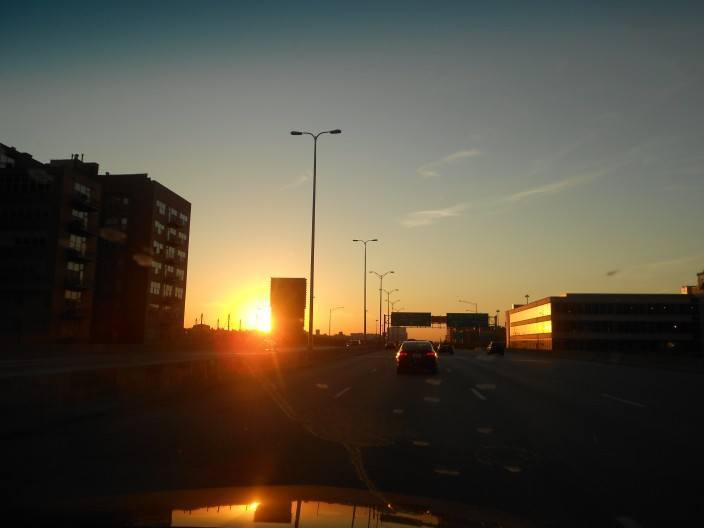 Since this journey I prefer direct flights. With a direct flight it doesn't matter if departure is delayed. By the way, I didn't yet tell you what the engineers did in the Fokker 50. Well, when we arrived in Amsterdam the pilot said succinctly: "We had technical difficulties with the tachometer. It didn't show the speed anymore." Oh, well then it was nothing special…