"I'm taking your temperature from your neck."
That's what the lady at Windhoek's airport said when she pointed at me with a red laser. Okay, Ebola is a topic here as well. But not a very big one. After we entered Namibia we never heard a single word about it again.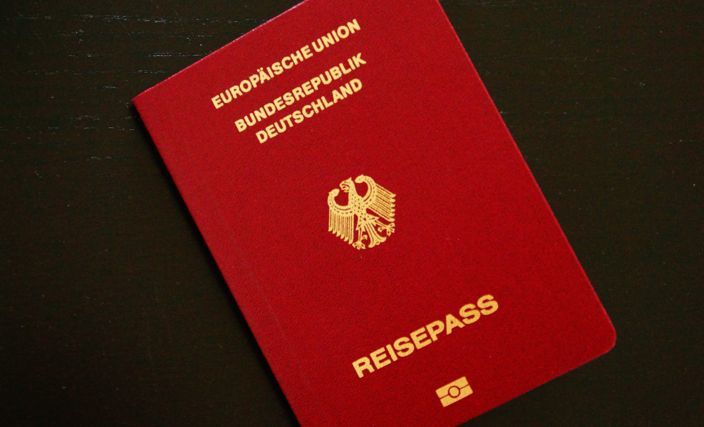 Of course we had to stand in queue for entering the country at the tiny airport that doesn't even have any gangways or busses to take you to the terminal. The queue wasn't very long though – it consisted only of the passengers from our flight from Johannesburg. Much more people wouldn't have fit into the queue anyway because the entry somehow takes place while you're still standing on the airfield. We had to fill out the normal entry documents already on the plane, but the staff at the airport handed over a further document. We had to tell them if we've been to a country in West Africa recently, if we had a temperature or muscle pain. Well, after our 34-hour-journey of course each and every single one of my bones and muscles was hurting. But that definitely didn't came from Ebola, so I ticked "No". Everything else would've been very stupid.
After my temperature and my passport have been accepted I made my way to the baggage claim. Windhoek's airport has 2 belts of which probably only one is operating at a time. Surprisingly our luggage made it to Namibia – I didn't really believe in it because of our connection via Qatar and Johannesburg.
After putting on our heavy backpacks we went to the taxi stand. It works the same way everywhere you're going, doesn't it? As soon as you get out of the airport people stop you to offer you a taxi – of course for the best price. We refused the first one as we hadn't even reached the taxi stand. But once we arrived there the people flocked to us as well. As we didn't really have a choice – there weren't much taxis around – and we just wanted to finally arrive at our hostel we accepted the first offer a guy made. The trip to Windhoek is 40 km long and we paid 300 N$ (ca. 20 €). That doesn't seem much at first sight, but for Namibian conditions it was not very cheap either. We resolved to negotiate the price next time – somehow that always works out.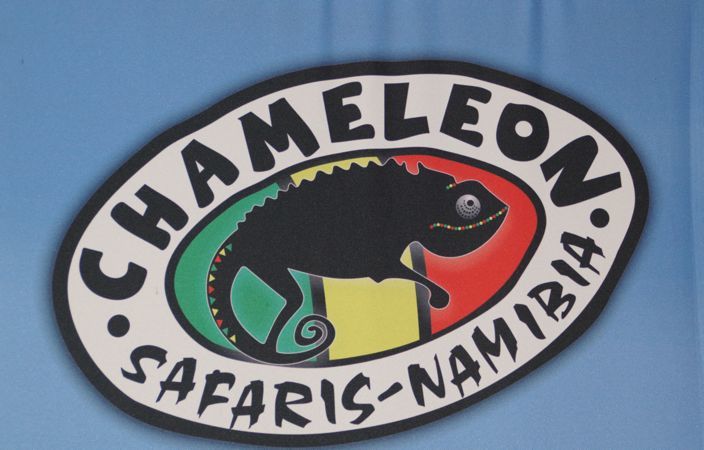 After half an hour we reached the Chameleon Backpackers. We booked the first 2 nights of our trip to Namibia in advance. The hostel is very popular but you will get a free bed even without booking in advance – at least in a dorm. As I'm not (yet) a friend of dorms we booked a private room with en-suite bath – that however was forced luxury because a private room with shared bath wasn't available. We paid 900 N$ (ca. 65 €) for the 2 nights – that's not very cheap, but at least a continental breakfast was included. Continental breakfast sounds fantastic somehow – so bulky. In fact it consisted of toast, butter, jam, muesli, milk and yogurt. And instant coffee and tea. Anyway, I think that's absolutely adequate for a breakfast in a hostel.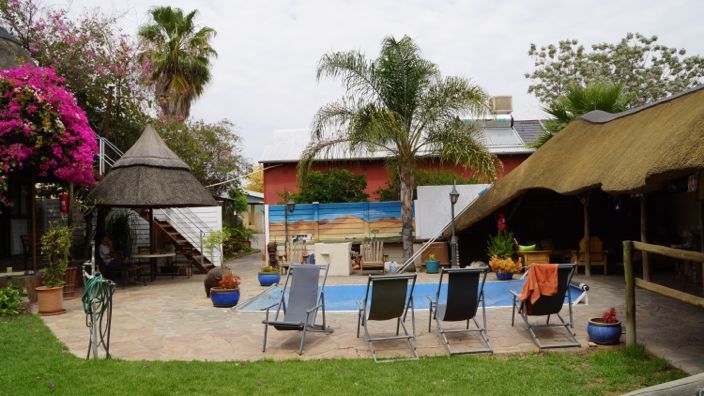 I like that hostel. The staff is very friendly, the rooms are clean, the kitchen is well-equipped, they have a pool and you get beer at the bar until 21:45. What do you need more? After we checked in we took some beers at the bar before we went to bed – tired to death.
Our plan for the next day was to get a car. We first thought about spending our whole time in Windhoek. But let's face it – what do you want to do there all the time? The city is 13 times the size of Cologne and only has slightly more than 300.000 residents. That's just about a third of Cologne's residents. Thus there isn't much going on and it's so wide that you always have to take a taxi. Furthermore, the city isn't very safe. You shouldn't leave the accommodation – which is secured with gates and electric fences – after sunset. Therefore we refused our idea of staying in Windhoek and decided to make a road trip on our own.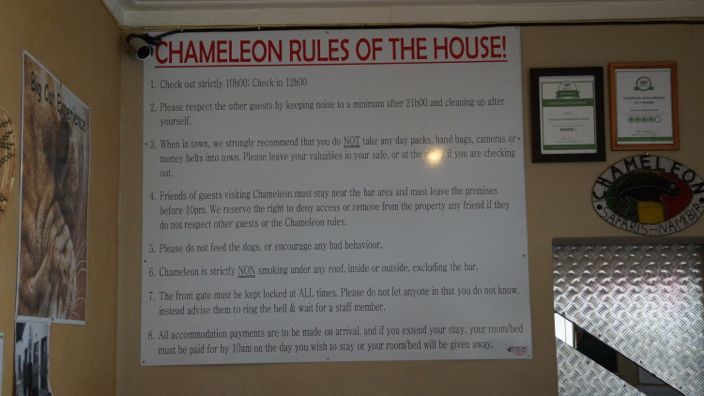 In search of a car we first asked Chameleon's travel bureau. They offer safaris as well as cars for your own road trip and they were quite surprised that we were asking for a car only one day before we wanted to start the trip. They said September is high season – we didn't notice that while we were on the road though. Most of the times we were the only ones at the campsite or there were just a few others. Even in Etosha National Park. Anyway, they pretended that there was only one car left. That should've cost far too much and wasn't available for the entire time frame we wanted to rent it. Thus we did a short research on the internet and found Camping Car Hire.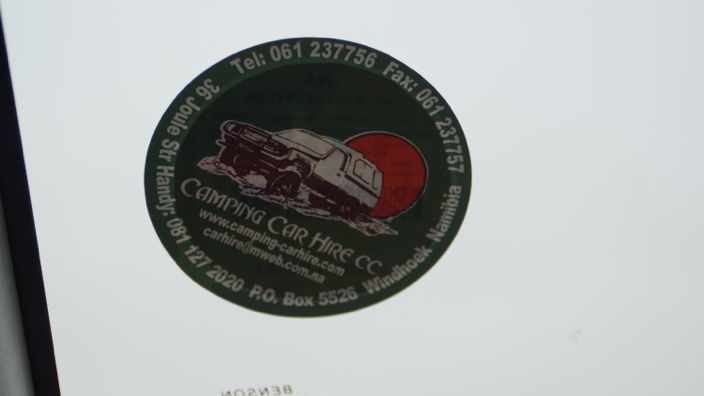 We asked the staff at Chameleon's to call a taxi for us – even taxis can be safe or unsafe – and we drove to to the car rental agency on the off chance. There was (supposedly) one last car available and that was exactly the one we wanted. 10 minutes later we stepped out of the car rental with a promise for renting a Nissan 4×4 single cab with roof-top tent for 17 days. The car was available in the afternoon as it still had to be whipped into shape. Therefore we had to kill some time. The taxi driver kindly waited for us at the car rental and then took us to the Christus church, one of Windhoek's places of interest.
After visiting the church we went to the parliament and afterwards we headed downtown. It's somehow always strange to be in a foreign city. You're not street-smart, you don't know where you actually should go, you don't know how to respond to the people. And as we're always polite at first we allowed a guy to chat us up.
The man was alone and spoke German, asked us where we are from and then called his buddy who told us something about his dead parents and how bad life in Namibia is. Then he showed us a piece of paper which said what the money in Namibia is worth. That was the moment we just went away because they were just wasting our time. You learn something new every day: Don't stop when someone chat's you up on the street! We had to learn that the hard way again later on in Swakopmund.
The Chameleon isn't far from downtown. Around 13:30 we decided to walk back there because a driver from Camping Car Hire was picking us up at 15:00 to take us back to the car rental. Unfortunately we both were bad in reading a map that day and went in the wrong direction on the main street. After about 20 minutes we finally realized that and took the next taxi that came by – though you shouldn't do that. We survived and paid only 20 N$ (ca. 1,40 ).
The driver from Camping Car Hire was exceedingly on time, thus 10 minutes early. We finished the contract and had to prepay 18.446 N$ (ca. 1.300 €) for the 17 days. At least we got the car for free for a half day. In fact we wanted to hire the car starting the next day, but because the lady said the next day would be very busy they handed the car over early. That way they got at least rid of us.
After we finished all the paperwork Simon, a member of the staff, explained the Nissan to us very detailed. The car was so well-equipped that we could've survived for a longer period of time far from any semblance of civilization: 2 spare tyres, 2 containers for fuel, 5 spare V-belts, camping stove, bbq, complete set of dishes and so on.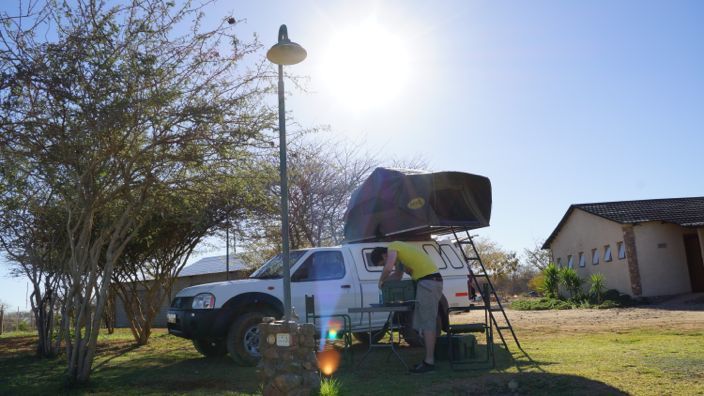 After Simon's 30-minute introduction into the world of 4×4 vehicles with a tent he let us on the road. Driving on the left isn't as difficult as I thought. I thought it would be similar to my first driving lesson back in driving school. But everything went well. I didn't turn on the wiper instead of the blinker and I didn't got into the opposing traffic. And Patrick wasn't scared to death, so everything was easy.
Our first stop with the car was at the supermarket to get the basics for our trip. You have to watch your shopping cart like a hawk by the way. Our first shopping cart was stolen in front of our eyes and later on a woman wanted to steal the bread from our cart when we weren't paying attention. Hello? The shelf with the bread was 2 meters away. After an endless search we finally had everything we needed and were the last to leave the car park at 18:00 because the supermarket closed the doors after we got out. Good to know that the shops aren't open very long. And good to know that it gets dark very quickly. When we went into the supermarket the sun was still up. And when we left 30 minutes later it was pitch-dark.
Arrived back at the hostel we stowed our things in the fridge (and forgot them there the next day – that brought us to our first detour, but I'll tell more in another article). Afterwards we called a taxi to get to Joe's Beerhouse. I read somewhere that you don't know Windhoek if you have not been to Joe's Beerhouse.  So we had to go there of course. The restaurant is huge and it was almost full. The food is awesome and not too expensive. I can totally recommend the restaurant.
Our taxi driver Ben gave us his number when he took us to Joe's Beerhouse and said we should call him when we want to go back to the hostel because every other taxi isn't safe. Sure. Serendipitously he just arrived to pick up some other people when we wanted to leave. He said he will be back in 20 minutes to pick us up, so we waited. He came back indeed, but the waiting time seemed a bit longer and I couldn't even remember what Ben did look like – the only thing I knew was that he wore Adiletten. Adiletten are really famous in Namibia by the way. Almost everybody wears them.
Anyway, with returning to the hostel our time in Windhoek was almost over. We wanted to start our trip early the next day to head to Etosha National Park. Before we left we booked a room in the hostel for our last night in Namibia as we had to return the car in Windhoek the day before our flight to Johannesburg. Camping Car Hire offers a free shuttle to the airport by the way. And it doesn't matter if you need to go to the airport right after you returned the car or 3 days later. I think that's a great service.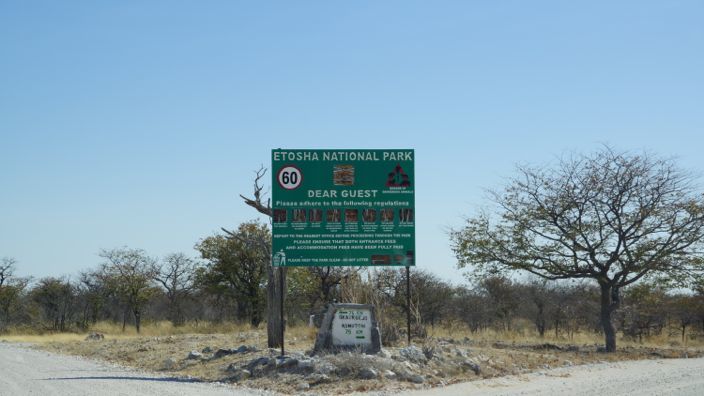 And 2 days after we started our round-the-world trip we were on the road. Where we've been, what we experienced, highlights and lowlights are following in my next articles.
Have you ever been to Windhoek? What did you do there and how long did you stay?
Note: Unfortunately I don't have pictures from Windhoek because we followed the hint not to behave like tourists.